(WE TOLD 'YA SO!)... MEG RYAN AND JOHN MELLENCAMP SECRETLY DATING!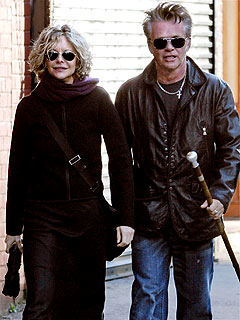 John Mellencamp and Meg Ryan are dating.
A source says the two are "indeed dating" and were first spotted together in New York City in October.
The rocker recently announced that he and his wife of 18 years Elaine Irwin Mellencamp have separated... but the source adds, the actress came into the picture well after they decided to split.
REALLY?

Meg Ryan and John Mellencamp were photographed having dinner together more than two years ago - along with his wife Elaine Irwin.
(....At the Waverly Inn while in New York City after the 59-year-old rocker was inducted into the Rock & Roll Hall of Fame in March, 2008.)
---