ANCIENT ACTOR CHRISTOPHER LEE HAS DROPPED A "HEAVY METAL CHRISTMAS" EP!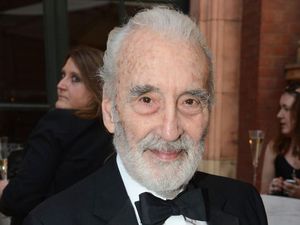 Legendary actor Christopher Lee has dropped a new EP of heavy metal-tinged Christmas tracks.
A "Heavy Metal Christmas" features the 90-year-old taking on versions of "Silent Night" and "Little Drummer Boy".
The collection is available on iTunes and Amazon.
Lee has worked with several heavy metal artists in recent years. He released his debut metal album "Charlemagne: By the Sword and the Cross" in 2010.
That same year, he was also awarded the "Spirit of Metal Award' by Metal Hammer magazine.
He'll release his follow-up album next year. It's called "The Omens of Death".