Early Morning Show
Profile
Bio

6-9am

Bringing you a blend of information and entertainment every morning. Start your day with a smile!

Craig's Favorite Things:

Passtime: Anything outdoors, paddling, hiking, cross-country skiing.
Movies: I would rather read the book, it's always better!
Songs: John Denver Rocks!
Food: Never Miss a Free Meal.
Quote: If I'm not Crazy am I Sane?

Rachel

Its great to wake up in the Northlands!

It may be a little earlier than Im used to (okay....a lot earlier), but I can do it as long as you join us on the Early Morning Show. Craig and I have everything you need to get your day going!

Im big into watching movies and TV (thank you DVR!), also enjoy reading, sports and all types of music. I may or may not also have a guilty pleasure of digging into celebrity news.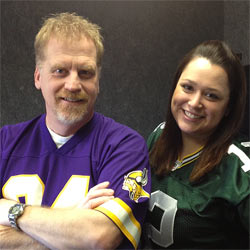 Links
Early Morning Show
Craig
Rachel