« back to Movies
22 Jump Street
Release Date: June 13, 2014
Genres: Action/Adventure, Comedy
Cast: Channing Tatum, Jonah Hill, Ice Cube, Dave Franco, Nick Offerman, Peter Stormare, Amber Stevens, Rob Riggle, Richard Grieco, Libby Blanton
Directors: Phil Lord, Chris Miller
Official Site: http://www.22jumpstreetmovie.com/site/
Distributor: Sony Pictures
After making their way through high school (twice), big changes are in store for officers Schmidt and Jenko when they go deep undercover at a local college. But when Jenko meets a kindred spirit on the football team, and Schmidt infiltrates the bohemian art major scene, they begin to question their partnership. Now they don't have to just crack the case - they have to figure out if they can have a mature relationship. If these two overgrown adolescents can grow from freshmen into real men, college might be the best thing that ever happened to them.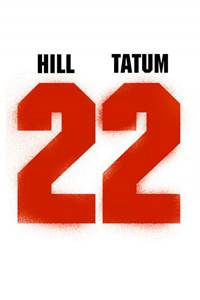 Show Times / Buy Tickets
There are no current showings for 22 Jump Street in this area.