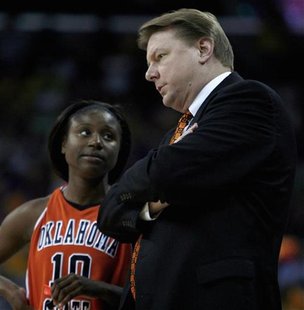 OKLAHOMA CITY (Reuters) - Oklahoma State University women's basketball coach Kurt Budke and assistant coach Miranda Serna died when a plane carrying them on a recruiting trip crashed in Arkansas, the university said on Friday.
The pilot, former Oklahoma state senator Olin Branstetter, and his wife, Paula, also were killed, leaving no survivors, the school said.
The single-engine Piper plane owned by the Branstetters crashed on Thursday afternoon in a wooded area south of Perryville in central Arkansas, about 45 miles from its destination of Little Rock, Arkansas, officials said.
The plane went down "under unknown circumstances," Federal Aviation Administration spokesman Lynn Lunsford told Reuters.
The university said the women's team would not play games scheduled for Saturday and Sunday. Mike Holder, OSU vice president for athletics, said associate head coach Jim Littell would take over as the interim head coach.
(Additional reporting by Suzi Parker in Little Rock; Writing by Colleen Jenkins; Editing by Jerry Norton and Eric Walsh)