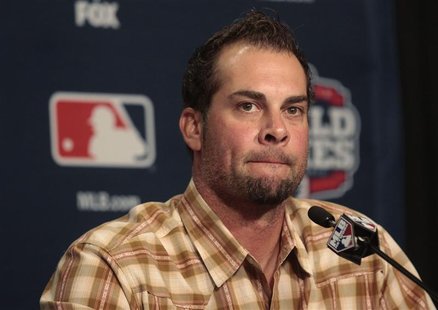 By Larry Fine
(Reuters) - A remarkable odyssey has taken Ryan Vogelsong to baseball's grandest stage with the chance to put a stranglehold on the World Series for the San Francisco Giants in Saturday's Game Three against the Tigers in Detroit.
The 35-year-old Vogelsong has toiled in parts of 10 seasons in the minor leagues, pitched three years in Japan and got his final crack at making it in Major League Baseball after showcasing himself in Venezuela's winter league two years ago.
An inspiring tale of perseverance has paid off for Vogelsong and the Giants.
Vogelsong, who has been San Francisco's most consistent postseason pitcher allowing one run in each of his three playoff starts in 2012, will try to help the Giants grab a dominant 3-0 lead in the best-of-seven Fall Classic.
"I feel like every day I come in here with a little chip on my shoulder that I need to work harder than the next guy, and try and get myself better on a daily basis," Vogelson told reporters in Detroit on Friday.
"And definitely game day, there's a chip there. I feel like I still have a lot to prove in this game."
Dogged by injuries and inconsistency over the years, the pieces finally fell in place when his audition in Venezuela paved the way for his return to the Giants, who had made him a fifth-round draft choice in 1998.
Mastering command of his fastball, cutter and curve, Vogelsong went 13-7 in 2011 and was named to the All-Star team, and this season posted a 14-9 record after compiling a 10-22 cumulative record over his six other major league campaigns.
San Francisco manager Bruce Bochy saluted Vogelson for his determination.
"I think when you have gone through what Ryan has had to go through in his career, injuries, being sent down, or pitching in Japan, he has a deeper appreciation for ... how hard it is to not just get here, but stay here," Bochy said.
"I think that's why he's so relentless with his work ethic, because he's been on the other side and he doesn't take this for granted."
Vogelsong, who is 2-0 with a 1.42 earned run average in three 2012 postseason starts, has embodied the never-say-die theme of the National League champions, who have survived six potential elimination games during these playoffs.
He rose to the occasion majestically in Game Six of the NL Championship Series against the St. Louis Cardinals, allowing one run on four hits and striking out a career high nine batters in seven innings as he kept the Giants' title hopes alive.
"It feels great when you think about Ryan and his story, and how much he did have to persevere, to see what he's doing now," manager Bochy said. "You feel great and good for that guy because of all he's gone through."
(Reporting by Larry Fine, Editing by Nick Mulvenney)