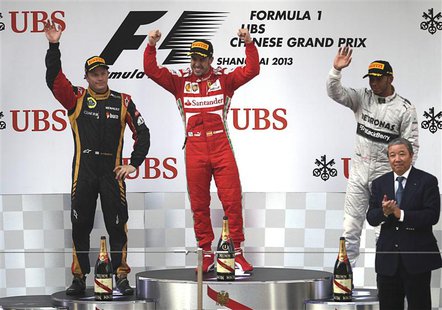 By Alan Baldwin
SHANGHAI (Reuters) - Fernando Alonso roared to a dominant victory in a highly strategic Chinese Grand Prix on Sunday to give Ferrari their first win of the Formula One season and put the pressure on champions Red Bull.
In a dry race dictated by tire choices and frequent pitstops, the Spaniard beat Lotus's Kimi Raikkonen by 10.1 seconds to make amends for crashing out of the previous race in Malaysia.
Lewis Hamilton completed a trio of world champions on the podium with third place for Mercedes after the Briton started on pole position but was unable to hold off the red car looming in his mirrors.
"The team did a perfect job with the setup of the car," said Alonso, now third in the overall standings on 43 points after three races - six points behind Raikkonen and nine adrift of Red Bull's triple champion Sebastian Vettel.
Ferrari cut Red Bull's lead in the constructor's standings to five points.
The win was Alonso's second in China, where red is regarded as the color of good fortune, and his first since Germany last July. It was also the 31st victory of his career - taking him to fourth in the all-time list alongside Britain's 1992 champion Nigel Mansell.
"It was a fantastic race for us from the start. There were no big problems and the tire degradation was better than expected. It feels great," said the double champion after a battle involving four different leaders in the first seven laps.
"In the two races we've finished we have got second place and victory so our start of the 2013 season is very good."
Raikkonen had started second on the grid but made a painfully slow getaway and was immediately passed by both Ferraris as the field engulfed him.
The Finn fell to fourth spot before battling back through the many pitstops and despite breaking his car's nose after being forced wide on to the kerb while trying to pass McLaren's Sergio Perez.
"What the hell is he doing," the 'Iceman' shouted over the radio in an uncharacteristically heated moment.
VETTEL FOURTH
Vettel finished fourth, just 0.2 behind Hamilton after a thrilling chase to the chequered flag that was a highlight of an afternoon that saw drivers more often pacing themselves rather than racing flat out.
The German had started on the medium tires, unlike the leaders who had lined up on softs, and left it until five laps from the end to change to the faster tires that allowed him to reel in Hamilton.
"We're not quite there yet, but we're not so far away," Mercedes principal Ross Brawn, whose team won in China from pole last year with Nico Rosberg, told Hamilton over the radio.
The Briton could at least feel buoyed with his second successive podium finish for the team he joined from McLaren at the end of last season, while Rosberg failed to finish.
McLaren's Jenson Button, who finished fifth to ensure five champions in the top five places, was even reduced at one point to asking his team whether he should fight or simply conserve the tires.
There was more agony for Red Bull's Mark Webber, who started from the pit lane after running out of fuel in qualifying and who made an immediate stop after a first lap on the soft tires.
The Australian lasted just 18 of the 56 laps, pitting twice and breaking his front wing in a collision with the Red Bull-owned Toro Rosso of Frenchman Jean-Eric Vergne.
Webber accepted the blame and collected a three place grid penalty for next weekend's race in Bahrain.
CONSPIRACY THEORY
His afternoon was in stark contrast to the previous Malaysian Grand Prix, which he led until Vettel ignored instructions from the pit wall not to overtake and denied him victory.
The feud between the team mates was the talk of the Shanghai paddock in the run-up to the race but they never came close to racing each other, let alone being in a position for Webber to exact any revenge.
The nearest it came to any drama was when Vettel almost hit Webber's loose right rear wheel as he rounded the turn 14 hairpin and found it bouncing and rolling in front of him.
"The way his strategy was going, it was working very well for him and he was back in the thick of it," said team principal Christian Horner of Webber's race. "The contact was unfortunate, and then to have to retire the car was even more unfortunate."
He angrily dismissed any suggestion of a conspiracy theory against the Australian, saying it was 'complete rubbish'.
"We're all about trying to get two cars to the finish as high as we can. Anybody who thinks there is a conspiracy here against either driver does not know what they are looking at," said the Briton.
Ferrari's Felipe Massa, who also scythed past Raikkonen at the start, finished sixth with Australian Daniel Ricciardo seventh for Toro Rosso and Paul Di Resta eight for Force India.
Frenchman Romain Grosjean was ninth for Lotus and Germany's Nico Hulkenberg secured the last point for Sauber to compensate for Mexican team mate Esteban Gutierrez ramming the rear of Adrian Sutil's Force India.
Gutierrez was handed a five place grid penalty for Bahrain.
(Editing by John Mehaffey)