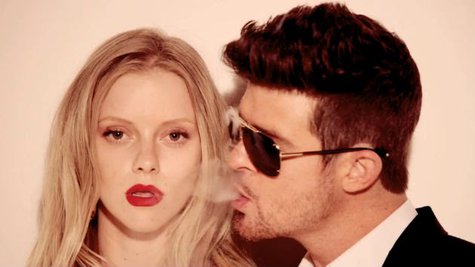 How many times did you use the Shazam app on your phone to figure out what song was playing? A lot, right? So which song inspired music fans to do that the most in the past 12 months? Shazam has announced that Robin Thicke 's "Blurred Lines" was the most "Shazamed" song of 2013 worldwide, being tagged 17.8 million times.
"Blurred Lines" was also the most "Shazamed" song of the year in the U.S., but then things diverge. In the U.S., the second and third most "Shazamed" songs were Lorde 's "Royals" and Pink 's duet with Nate Ruess , "Just Give Me a Reason." Worldwide, the second and third most tagged songs were Avicii 's "Wake Me Up" and "Thrift Shop" by Macklemore & Ryan Lewis .
As far as the world's most Shazamed artist is concerned, though, Macklemore & Ryan Lewis take the prize, due to their numerous hits. The duo was also the most Shazamed artist in the U.S., followed by Rihanna and then Robin Thicke. Worldwide, Avicii and Rihanna came in at #2 and #3.
Other artists who ranked among the most Shazamed of the year: Bruno Mars , Imagine Dragons , Daft Punk, Justin Timberlake and Calvin Harris.
Shazam is also predicting which artist's songs will be big in 2014, based on the quantity of tags for them right now. Among them: Pretty Little Liars star Lucy Hale , who's launching a music career; British singer Sam Smith ; R&B star Jhené Aiko ; rapper Kid Ink ; and L.A.-based female artist Banks . Are these predictions accurate? Well, last year, the company predicted Passenger 's "Let Her Go" would be big in 2013, and now it's top 10.
Copyright 2013 ABC News Radio