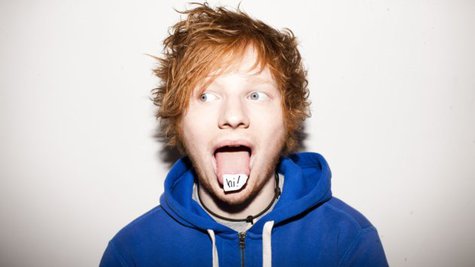 Ed Sheeran surprised many a fan when a photo on Instagram revealed that he'd spent Thanksgiving with none other than Jennifer Aniston. He'd previously revealed that he was friends with Courteney Cox , but how did he end up with yet another Friends star? Just a stroke of luck, it turns out.
Speaking to E! Online , Ed reveals that he went to Aniston's after he called one of his buddies after he finished up something in the recording studio that night. "He was like, 'I'm at Jen's house and we're just having a chill hang so I was like, 'OK,'" Ed explained. "Then I turned up…and they're having a proper Thanksgiving meal and I'm there and I think I was wearing my board shorts or something. It was fun."
In fact, Ed says that he also spent part of the day at Courteney Cox's house, where he says he encountered Sacha Baron Cohen -- Borat himself. "We ended up jamming and he would, like, rap in Arabic and stuff. It was very funny," says Ed, noting that Cohen is "one of my all time favorite actors and comedians." But at Aniston's house, Ed says, "I didn't do any music. I just drank."
"I like Thanksgiving," says the British singer. "It's an excuse to spend time with your family and I think that's important." He added that he also enjoyed the turkey, cranberry sauce, stuffing and gravy.
Copyright 2013 ABC News Radio