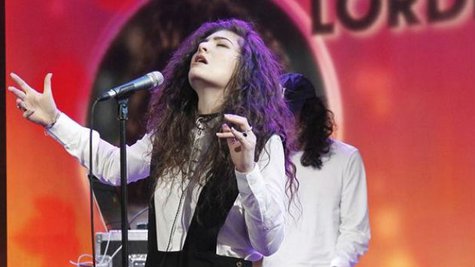 In her hit "Royals," Lorde sang about being the Queen Bee, and that's exactly what she is in the new video for her latest single, "Team."
In the clip, the singer, with her hair braided and wearing super-dark lipstick, presides over a secret society of teens, who sit around in what looks like a tropical sauna and chug gallon jugs of water. This sauna room appears to be hidden in a huge abandoned industrial-looking building on a waterfront.
Then, a new recruit arrives, brought to the location with a bag over his head. The kid, who looks scrawny and uncool, is put on a motorcycle and forced to "joust" with another kid. They drive very fast towards one another on their bikes, holding what looks like wooden sticks, and the new recruit is knocked over and his nose is bloodied. But instead of failing the initiation, the kid is carried triumphantly into the secret sauna room, borne on the shoulders of the society members, with a huge grin on his face. The message: losers are winners.
In a statement, Lorde says of the video, "This video was borne from a dream I had a few months ago about teenagers in their own world, a world with hierarchies and initiations, where the boy who was second in command had acne on his face, and so did the girl who was Queen."
"I dreamt about this world being so different to anything anyone had ever seen, a dark world full of tropical plants and ruins and sweat," she continues. "And of this world, I dreamt about tests that didn't need to be passed in order to be allowed in: sometimes the person who loses is stronger. Enjoy."
Copyright 2013 ABC News Radio