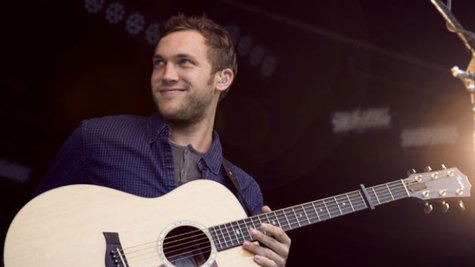 Phillip Phillips ' debut album has been a huge success, and he says in 2014, fans can look forward to some new music from him.
The American Idol season 11 champ tells Billboard , "I'm always writing some music. I've got some things I'm pretty excited for. I'm going to try to have an album out by spring or summer, to be able to tour next summer."
Speaking of touring, this past year, Phillip got the chance to open for both Matchbox Twenty and John Mayer , something he says made a huge impact on him. "It's been a freakin' busy year, but it's been good," Phillip tells Billboard , adding that being on the road with John has been "just unreal."
"He's given me a lot of great advice," Phillip reveals. "Whether it's business decisions or music decisions.... We'll sound check some new songs ...he'll come up to me [and say,] 'That's tight. Keep at it.' It just makes you feel good for somebody in that position to say those types of things to me."
Phillip has also named his favorite songs of 2013 for Billboard , and it's no surprise that his list includes songs by both John and by his girlfriend, Katy Perry : "Waitin' on the Day" and "Roar," respectively. He also likes "Royals" by Lorde , and Imagine Dragons ' "Radioactive."
Copyright 2013 ABC News Radio