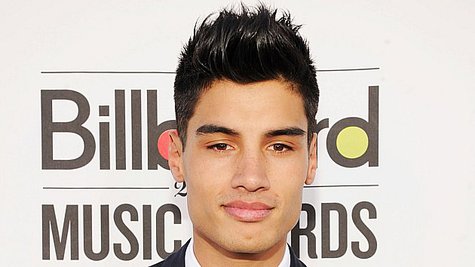 One Direction is no longer the only boy band with a member who's off the market. The Wanted's Siva Kaneswaren tells Britain's Hello! magazine that he's engaged to his girlfriend of six years, Nareesha McCaffrey .
Siva says that after he found out that Nareesha was planning a surprise birthday party for him, he colluded with her family to turn it into a surprise engagement party instead. At the event, Siva got down on one knee and presented Nareesha with a three-carat diamond solitaire ring that he'd purchased months before. Turns out he was just trying to find the perfect time to pop the question.
"It was like a military operation to plan the proposal," he tells the magazine. "I couldn't even tell the other boys in the band in case they blew the surprise."
Unfortunately, the proposal didn't go quite as Siva planned, because Nareesha initially said no. Why? "I don't like surprises and he really surprised me," she explains. "But I was so happy. I can't wait to start planning the wedding."
Copyright 2013 ABC News Radio