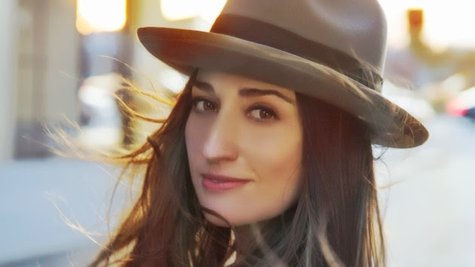 Fresh from receiving two Grammy nominations -- which she calls "unexpected" and "surreal" -- Sara Bareilles has now booked an appearance at yet another awards show.
The singer will perform live on the People's Choice Awards, which air on CBS on January 8. In a statement, she said, "[I'm] so happy to be able to perform 'Brave' on the People's Choice Awards. I've always loved watching the show and am excited to be a part of it."
She tells PeoplesChoice.com , "I'm gonna try to hit the high notes… hopefully. We're bringing a full band and I think it will be really exciting. We're working on some surprises too, so we'll see what happens." Ironically, Sara isn't actually a nominee this year; in fact, she's never been nominated for a People's Choice Award.
As for those Grammy Awards, Sara tells PeoplesChoice.com that she was performing at a NASCAR event when she got the call from her manager about the nominations. Her reaction? She "proceeded to scream into the phone for about 20 minutes."
"Then I called everybody I knew and was shaking and then went downstairs to the ballroom and sang 'Brave' with everything I got because I was just so excited," she recalls.
Most Grammy experts were shocked that her disc The Blessed Unrest has been nominated for Album of the Year, while albums from other artists -- like Justin Timberlake , for example -- were not. Sara says she's shocked too.
"It all feels very surreal...it was just so unexpected. I feel so honored and so grateful," she tells the website. "I kinda can't believe it and I know a lot of people can't believe it, but I'm gonna take it. I'm thrilled; I'm so happy."
Sara had been nominated for Grammys before, but never in the Album of the Year category.
Copyright 2013 ABC News Radio