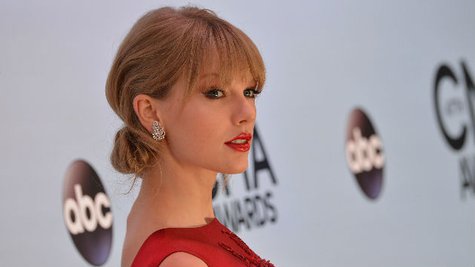 Happy birthday, Taylor Swift! The superstar turns 24 on December 13, but because of global time zone differences, she actually got to celebrate her special day 24 hours early.
The singer is currently in Australia, which is 16 hours ahead of Eastern Time, so Taylor tweeted on Thursday, "It would appear that I'm now 24. That's on Australia time though. Still 23 in the States." She then posted a Vine video of a singing birthday card she'd received: it features pictures of cats, who are all singing "Meow," and it's signed " Meredith ," which is the name of Taylor's cat. "Thanks mom," wrote Taylor.
Even though it wasn't technically her birthday, Taylor still had a lot to celebrate Thursday: she received the second Golden Globe nomination of her career. It was for "Sweeter than Fiction," the song she co-wrote with fun. guitarist Jack Antonoff for the movie One Chance , which tells the story of Britain's Got Talent winner Paul Potts . That came less than a week after she received several Grammy nominations.
While 2013 has been a fantastic year for Taylor, with her sold-out RED tour, hit singles, and plenty of awards, 2014 promises to be even more exciting, because that's when she'll release the follow-up to Red . She's working on it right now, but the key, she says, is picking the right songs to include on the final version of the album. How does she do it? It's a rigorous process.
"I'm pretty harsh on my own songs and I listen to them over and over again," Taylor admits. "The ones that I get tired of first, don't make the record."
But it's not just her own opinion that Taylor uses to decide. She uses her friends and family as sort of a big focus group, gauging their reaction to her new songs and adjusting her albums accordingly. "The first rule that I always apply to the record is, 'May the best song win,'" she reveals. "You determine that by the songs that your friends and family absolutely freak out over."
Explaining how this works, Taylor says, "My friends and family, when I play them new songs and they go, 'Oh that's really good,' I know that one's not supposed to make the record. Because unless they're going 'Oh... My... God! WHAT?! Whoa!'...unless they're really losing it and asking to hear it again, then it's not good enough."
Taylor's uncanny ability to pinpoint the correct songs have led to some major chart milestones. Though she's only been releasing music since 2006, she's racked up more top-40 hits than The Rolling Stones .
Copyright 2013 ABC New Radio