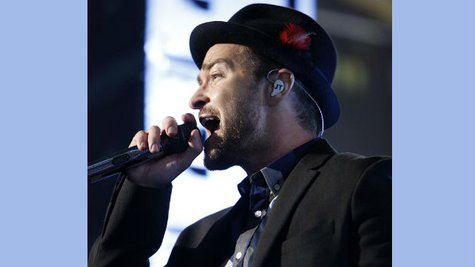 Justin Timberlake will bring his 20/20 Experience World Tour to Louisville, Kentucky on Sunday, and in honor of his visit, a local ice cream chain has created two new flavors inspired by the singer.
The Comfy Cow , an ice cream parlor with several locations in the area, has introduced two special flavors in honor of Justin. One of them is called Breakfast on Beale Street, because Justin's from Memphis, Tennessee, and that's the city's most legendary street. It features chunks of bacon, layers of cinnamon maple French toast cake bites, and fresh blueberry compote with maple syrup and a hint of nutmeg.
The other flavor is called Sweet Southern Nights, featuring as one of the ingredients JT's own signature tequila, which is called 901 after the Memphis area code. The ice cream also features blackberry lime buttermilk biscuit chunks, and blackberries cooked with lime zest and tequila. Hungry yet?
For all of December, fans have been invited to come in and vote for their favorite flavor by filling out a contest entry card. On Saturday afternoon, one lucky winner will win a pair of tickets to JT's concert on Sunday. The store also will feature the winning flavor for a month.
Copyright 2013 ABC News Radio