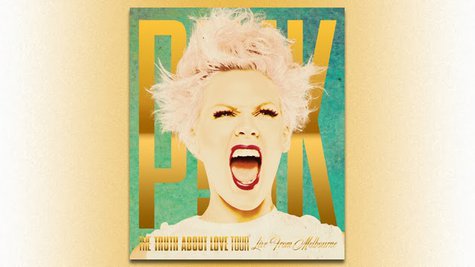 Pink's The Truth About Love tour ended up ranking as Billboard 's third-highest-grossing trek of the year, second only to Bon Jovi and the Cirque du Soleil production Michael Jackson The Immortal. But if you didn't get to see it, don't fret: you can check it out on DVD and Blu-ray next month.
The Truth About Love Tour: Live from Melbourne arrives on DVD, Blu-ray and digital long form on January 21. The one-hour, 50-minute show was filmed in Melbourne, Australia, during Pink's record-breaking run of shows there this past year. You'll see special effects, costume changes, bungee jumping, and, of course, incredible acrobatics and live vocals from Pink.
In addition to all her hits, the show features Pink performing two cover versions: Chris Isaak's "Wicked Game" and Cyndi Lauper's "Time After Time." A few bonus features round out the package.
Here's the track listing for The Truth About Love Tour: Live from Melbourne :
"Raise Your Glass"
"Walk of Shame"
"Just Like a Pill"
"U + UR Hand"
"Leave Me Alone (I'm Lonely)"
"Try"
"Wicked Game"
"Just Give Me a Reason"
"Trouble"
"Are We All We Are"
"How Come You're Not Here"
"Sober"
"Chaos & Pi** (Interlude)
"The Great Escape"
"Who Knew"
"Time After Time"
"Perfect"
Can't Take Me Home Medley
"Slut Like You"
"Blow Me (One Last Kiss)"
"So What"

BONUS FEATURES:
The Truth About Tour
A Day in the Life of Rubix
"Slut Like You" (Bluegrass Version)
Copyright 2013 ABC News Radio