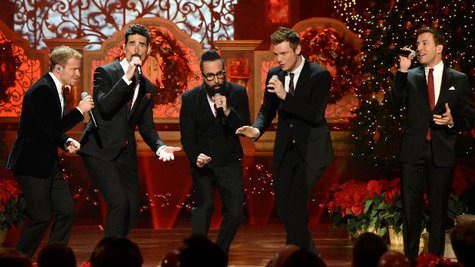 The Backstreet Boys , Train 's Pat Monahan , actress/singer Anna Kendrick and Sheryl Crow are just some of the artists you'll see performing for an audience that includes President Obama and his family, tonight on TNT's annual special Christmas in Washington.
"It's our first year doing this," Backstreet's Howie Dorough told ABC News Radio at the show taping in Washington, D.C. "[We're] very honored to be invited to perform for [the president] and the family."
Despite being around for 20 years, the group had never previously sung for any U.S. president. So, were they nervous about the prospect? "There's always a little hint of nerves," says Backstreet's A.J. McLean . "I think if we didn't have that, that wouldn't be good. But once you're out there it just kind of flows." Giving the group confidence, said A.J., was that they had technological backup.
"I think because we've got 20 years of catalog of music...they have our lyrics up on the teleprompter for us, so we don't mess up!" he laughed. During the show, you'll see Backstreet perform two of their own holiday tunes: "It's Christmas Time" and "It's Christmas Time Again."
According to the Washington Post, you'll also see Sheryl sing "Please Come Home for Christmas" and "O Holy Night," and Anna, who scored a huge hit this past year with "Cups (When I'm Gone)," performs "Have Yourself a Merry Little Christmas" and "Silent Night." Pat Monahan, meanwhile, turns in a rendition of "Merry Christmas Baby."
Host Hugh Jackman , who's a song-and-dance man when he's not being Wolverine, performs "Angels We Have Heard on High." And in the grand finale, the Obamas -- the president, Mrs. Obama, and daughters Malia and Sasha -- come on stage for a rousing group performance of "Hark! The Herald Angels Sing."
The show airs on TNT Friday at 8 p.m. ET/PT. Now in its 15th year, the special benefits the Children's National Health System.
Copyright 2013 ABC News Radio