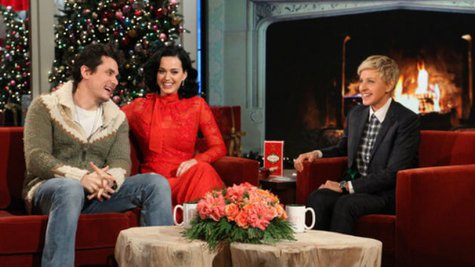 Cute couple Katy Perry and John Mayer took their lovefest to Ellen DeGeneres' show on Friday. First, Katy chatted with Ellen, and then John joined her on the couch for more questions.
One topic of conversation was the new video for Katy and John's duet " Who You Love ," which shows them riding a mechanical bull together. Ellen asked, jokingly, if the video was a response to Kanye West and Kim Kardashian's video for "Bound 2 ," which shows the couple riding a motorcycle together, which led Katy to reply, "Yes! I thought our response was a little more authentic, though, because my hair was blowing in the right direction."
As the audience laughed, Ellen realized that Katy was right: in Kimye's video, Kim is facing backward on the motorcycle, which meant her hair should have been blowing forward, but it isn't. "You're right. No one thought of that!" marveled Ellen, while John added, "Genius! Genius!"
Ellen also tried to get Katy to talk about how romantic John is, but the singer turned it into a discussion about how "thoughtful and creative" he is, especially when it comes to Christmas gifts. The two confirmed they'll be spending Christmas together, by the way. They did last year as well, but then broke up in March of 2013 before reuniting over Memorial Day weekend.
Katy also gushed that dating John is great because he truly understands what she goes through every day as a global music star, because he's one as well. "We have music as an understanding, and love between each other and we connect," Katy explained to Ellen. "It's like he understands what I do, because he does the same thing, and so after a long day, if it's been tough, I don't really have to go into it, he just gets it y'know? So it's nice with that understanding."
For Ellen's show, Katy and John also made a spoof 1970s video called A Perry, Mayery Christmas , complete with ugly '70s outfits and a cheesy duet of "Winter Wonderland."
Copyright 2013 ABC News Radio
video platform video management video solutions video player video platform video management video solutions video player video platform video management video solutions video player