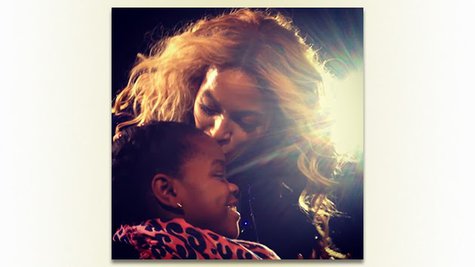 What's better than your mom taking you to a Beyonce concert? Getting a kiss from the superstar herself while at the concert. And that's just what happened to Madonna's daughter on Thursday night.
Madonna posted on Instagram a photo of her eight-year-old daughter, Mercy James , being smooched on the forehead by Beyonce during the star's concert in Brooklyn, NY. "Mercy James gets a big fat one from the Queen. B!" Madonna wrote on the caption, adding "Mrs. Carter crushes the BK with her bad ass show! Girls run the world!"
Mercy isn't the only young woman with a famous mom or dad who's a fan of Beyonce's. In the new issue of People , first lady Michelle Obama said that her daughters Malia and Sasha "love" Beyonce and her husband, Jay Z . "They've gotten to know Beyonce and she has always been very sweet to them," added President Obama.
Beyonce's tour travels to Boston Friday night, and then wraps up with another show in Brooklyn on Sunday. It will resume Febuary 20 in Scotland.
Copyright 2013 ABC News Radio