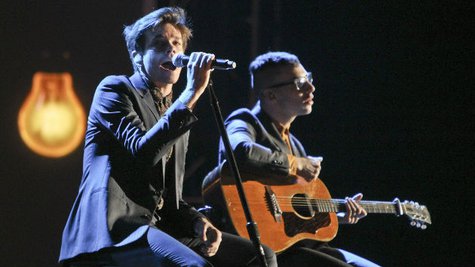 The band fun . has got a special gift for their fans this holiday season. The "We Are Young" group is giving away a free EP , called Before Shane Went to Bangkok: fun. Live in the USA , on their website.
By submitting your email address, you can get a free download of the six-track set, which includes live versions of songs from both of their studio albums -- including the hits "Carry On" and "Some Nights" -- as well as one previously-unreleased track.
fun. frontman Nate Ruess posted a message with the link to the download, noting that the group's recent two-year tour was so amazing that that he wanted to share some live cuts from the trek to celebrate the experience.
"What was supposed to be just another album and touring cycle, turned into the craziest two years any of us have ever had," Nate writes. "If I were to be asked the very unoriginal question of 'what was the highlight of it all so far?', and had to answer it honestly -- I would have to say the unwavering support and energy that you guys provided at all of our shows."
Earlier this year, fun. dominated the Grammy Awards. At the end of January, Nate could bring home a couple more, thanks to his nominated duet with Pink , "Just Give Me a Reason."
Before Shane Went to Bangkok: fun. Live in the USA will also be released on 12-inch vinyl sometime in 2014. You can pre-order the record on fun.'s official website. Only 1,000 copies of the set will be made available.
Here's the track list:
"Out on the Town"
"Barlights"
"Carry On"
"What the F**k"
"The Gambler"
"Some Nights"
Copyright 2013 ABC News Radio