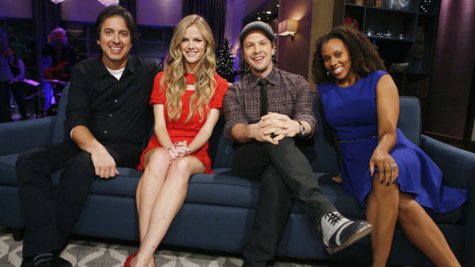 If you thought Gavin DeGraw competing in Dancing with the Stars was unexpected, wait until you see him tonight on NBC, competing in a series of parlor games with a bunch of actors, and one sports superstar.
Gavin is one of the participants in a special holiday edition of the NBC show Hollywood Game Night , which airs Monday night at 10 p.m. ET. Hosted by Jane Lynch , the show features celebrities from different fields sitting on couches and playing games to earn money for their favorite charities. Regular contestants also get a chance to join in the mix and compete for cash prizes.
On Monday, you'll see Gavin playing with Ray Romano , Cheryl Hines , Rachel Bilson , tennis star Andy Roddick and his wife, model and actress Brooklyn Decker . Gavin played to raise money for the Wounded Warrior Project, and he tells ABC News Radio it's a "really cool show" and "a lot of fun," and calls Jane Lynch "a hysterical human being." He also praises the show's "loose atmosphere," which made him feel, he said, like he was hanging out in a bar or lounge with friends.
Hollywood Game Night returns to NBC's regular schedule on Monday, January 20. Among the stars who'll compete in upcoming episodes: Glee's Chris Colfer , The Big Bang Theory 's Kaley Cuoco and Mayim Bialik , Top Chef host Padma Lakshmi, Christina Applegate , Rosie O'Donnell , Mario Lopez and many more.
Copyright 2013 ABC News Radio