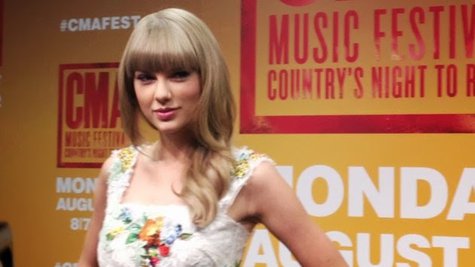 Taylor Swift is currently working on the follow-up to her best-selling disc Red, and as she did on that album, she again plans to reach out to an array of other writers and musicians to help her expand her sound -- or, as she puts it, create a musical "reinvention."
"I'm really loving collaboration right now," Taylor told Billboard . "I see it as a bit of an apprenticeship. I want to be around people who love writing songs and have done it for years. Every time I'm in a studio I'm learning...and getting a new perspective on things. It's so thrilling to keep learning on your fifth album."
"It's gotten to the point where each one is a reinvention, which is what I like best," she adds. "I like it when it sounds new and people don't know where you're going to go next."
Taylor's been nominated for a Golden Globe award for one of her musical collaborations: the song "Sweeter than Fiction," which she co-wrote for the movie One Chance with Jack Antonoff of the band fun. She says she wrote the song from the perspective of the wife of the movie's main character, opera singer Paul Potts , the real-life winner of Britain's Got Talent. And Taylor reveals she found it refreshing not to write about her own experiences for a change.
"I think it's a bit of a relief to take the focus off of my own life," she tells Billboard. "It can get pretty intense, writing [personal] details -- that's a very vulnerable place to put yourself in."
Comparing writing about herself to writing in the voice of another person, Taylor says, "There's a specific type of thrill you get from that recounting of your life. There's a different kind of thrill you get hoping you have accurately portrayed someone else's emotions that you're seeing so well done by these actors." She adds, "The actors did such a great job it was fairly easy to get inside their heads."
Taylor will find out if she wins the Golden Globe on Sunday, January 12 when the awards telecast airs on NBC. "Sweeter than Fiction" is also eligible to be nominated for an Academy Award, and she'll find out if it makes the cut on January 16, when the Oscar nominations are announced. And on January 26, she'll find out if she's won any of the four Grammy Awards for which she's been nominated.
Copyright 2013 ABC News Radio