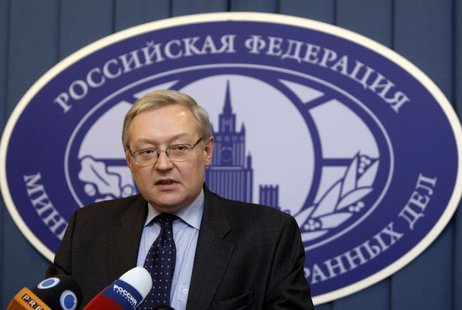 MOSCOW (Reuters) - Russia is worried by a lack of progress on organizing new talks between Iran and six world powers on Tehran's nuclear program, a senior Russian diplomat said on Thursday, despite the victory of a relative moderate in Iran's presidential election.
Deputy Foreign Minister Sergei Ryabkov made clear that a diplomatic push to arrange a new round of talks, launched after Hassan Rouhani won the June 14 election, had produced no breakthrough.
"There is no agreement now on when and where the next round will be. That worries us," Ryabkov told Interfax news agency.
"After the election of the Iranian president, we stepped up work in preparation for a new round of talks but so far the work is not being done transparently."
International hopes for a resolution of the nuclear dispute were boosted by the election of Rouhani, who has promised a more conciliatory approach to foreign relations than predecessor Mahmoud Ahmadinejad.
Iran says it is enriching uranium only to fuel a planned network of nuclear power stations, and for medical purposes.
But refined uranium also provides the fissile material for nuclear bombs if processed further, which the West fears may be Tehran's ultimate goal.
(Reporting by Alissa de Carbonnel; Editing by Timothy Heritage)