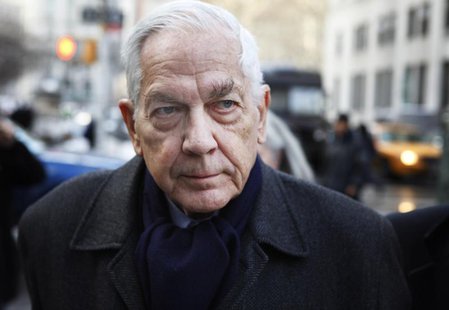 By Francesca Trianni
NEW YORK (Reuters) - Anthony Marshall, the only child of late millionaire philanthropist Brooke Astor, has been a Broadway producer, a decorated war hero and U.S. diplomat and is set to add prison inmate to his life story.
On Thursday, barring a last-minute reprieve, Marshall will be known by the number on his New York State Corrections Department identification card when he begins serving a one- to three-year sentence for siphoning millions of dollars from his ailing mother incapacitated by dementia.
After losing a series of pleas to avoid prison, Marshall, 89, will be the oldest person ever admitted to a New York prison for a nonviolent crime, his lawyers said.
Marshall was convicted in 2009 of stealing millions of dollars from his mother before her death in 2007 at age 105. Prosecutors presented a case accusing him of looting his mother's estate while she suffered from Alzheimer's disease.
His twin sons testified against him, saying he greedily exploited his mother to satisfy his much younger third wife.
On Thursday, Marshall is expected to leave his five-bedroom, four-bath apartment in a building on Manhattan's fashionable Upper East Side decorated with limestone columns and wrought-iron doors. He heads for a cell with little more than a bed and at least one fellow inmate, said Tom Mailey, a spokesman for the Department of Corrections.
Pending a physical exam by prison doctors, Marshall, who cited poor health in his failed bid to stay out of prison, could be sent to a correction facility or to a prison nursing home, Mailey said.
Marshall, who earned a Purple Heart for fighting in the battle of Iwo Jima during World War Two, will swap his trademark pinstriped suits and U.S. Marine Corps tie clip for a green, two-piece cotton prison uniform and basic sneakers or black work shoes. He can wear his wedding ring.
The producer of such Broadway hits as the Tony-winning 2003 revival of "Long Day's Journey Into Night," starring Philip Seymour Hoffman and Vanessa Redgrave, will be allowed to watch television or play board games for two to four hours a day, depending on the facility.
Marshall tried to stay out of prison by arguing he uses a wheelchair and is unable to feed, bathe or shave himself. But in prison, he must participate in a mandatory work program, Mailey said.
If he is too ill for physically demanding jobs, he could be assigned lighter tasks such as helping in the prison library.
The Nixon-era ambassador to Kenya, Madagascar, and Trinidad and Tobago will be permitted to shower three times each week.
PROSECUTOR DISPUTES LAWYER'S GRIM PORTRAYAL
At a court hearing this week, Marshall's lawyer Kenneth Warner portrayed a grim picture of his client's declining health and likely fate.
"A jail sentence could have a lethal consequence," Warner said. "We're dealing with someone who needs care 24 hours a day. He's disoriented and confused. The disorientation from going to prison means that before he dies, he'll have a tortured life."
Prosecutor Elizabeth Loewy disputed that portrayal.
"He is able to go to lavish parties on the Hudson River, on the Titanic," said Loewy, an Assistant District Attorney, citing a newspaper article that placed Marshall at a black-tie event in February aboard a floating museum celebrating the Titanic II, a cruise ship being built and modeled after the original Titanic.
Marshall's mother married Vincent Astor, son of businessman and real estate mogul John Jacob Astor IV, the richest passenger aboard the Titanic when it sank in 1912.
When Vincent Astor died in 1959, Brooke Astor inherited about $60 million, which grew over the years and allowed her to become a high-profile and beloved philanthropist in New York.
Over the years, she donated some $200 million to charities, the Metropolitan Museum of Art and the New York Public Library.
Under Astor's will, her only child - Marshall - stood to inherit tens of millions of dollars. After he was convicted of grand larceny, fraud and other charges, he instead received a settlement of $14.4 million.
(Editing by Grant McCool)