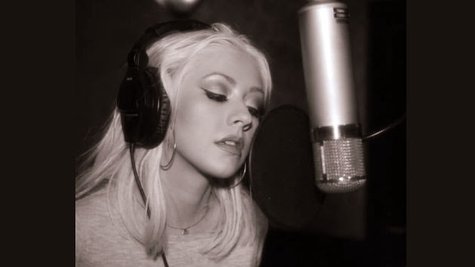 The Voice is all about discovering new musical talent, but now an artist who isn't even a contestant on the show will be getting a major boost from coach Christina Aguilera .
After Christina became enamored with the song " Say Something ," by the rising pop duo A Great Big World , she invited them to perform on The Voice this Tuesday, November 5. But that's not all -- she also asked them to go into the studio with her and re-record the song, adding her vocals to it. The new version hits iTunes on Monday.
"I'm only taking on projects that feel good to me and represent a purpose of the 'here and now' in my life, and that's what this song 'Say Something' actually does for me," Christina explained about her involvement.
In a statement, the members of A Great Big World, Ian Axel and Chad Vaccarino , commented about "Say Something," "It is a healing and hopeful song and we simply cannot believe how many people [it] has resonated with. It's one of the greatest honors in the world to know that your art is making a positive impact. Even more so, it's an incredible privilege to have the support of Christina. Collaborating with her is something we'll both remember forever."
"Say Something" first grabbed the public's attention when it was featured on So You Think You Can Dance . But being spotlighted on TV is nothing new for A Great Big World: their song "This Is the New Year" was performed on Glee , and also popped up on One Tree Hill and The Amazing Race.
The duo's debut full-length album Is There Anybody Out There? will be available for pre-order November 4, and will include instant downloads of the Christina-assisted "Say Something," as well as "This Is the New Year."
Copyright 2013 ABC News Radio