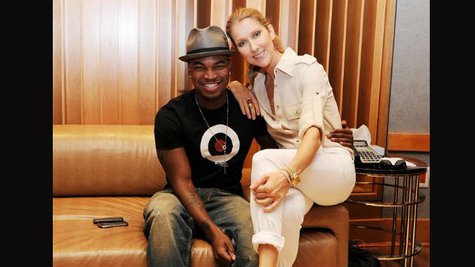 In the course of his career, Ne-Yo has worked with many different artists, from Rihanna and Beyonce , to Pitbull and Jennifer Hudson . But he says his latest collaboration left him feeling like he shouldn't have even bothered to show up.
Ne-Yo can be heard duetting with Celine Dion on the legendary diva's brand-new album Loved Me Back to Life , which is in stores on Tuesday. The two sing a song that Ne-Yo co-wrote called " Incredible ," and Ne-Yo says Celine herself is so incredible that he wondered why she even needed him on the track. "It's an honor and pleasure to sing with Celine Dion but it is not an easy thing," he explains. "It's the most irrelevant I've ever felt, because the size of Celine's voice, you don't need me there! She can do the whole song herself!"
Still, Ne-Yo says performing with the Canadian star was a bucket list item for him. "Things to do before you die: write a song for Celine Dion, check. Sing a song with Celine Dion, check," he says. "Damn! You know what I mean? It's just one of those moments where you step outside of yourself and go, 'Wow.'"
Of course, Ne-Yo had to come up with an extra-special song for them to sing, and with "Incredible," he thinks he's succeeded. Talking about the meaning of the track, he says it describes a "situation where you are in the spotlight and everybody is watching, [and you think], 'Let me do something incredible. Let me do something that is going to make people remember that I was here.'" He says it's "a theme song for that moment when you do something that defines who you are, or defines a moment in time."
And for Ne-Yo, having Celine sing those sentiments took the song to a new level.
"For her to take these words that I've put together and put the passion behind them that her voice just naturally has, it just makes the message to the song that much better," he says.
As for whether or not Ne-Yo and Celine will ever perform the song together live, he tells ABC News Radio that he'd "love" to join the diva on stage at some point, but he's not sure when or where that would happen. Of course, Ne-Yo is from Las Vegas, and Celine Dion lives and performs there, so it's not so out of the question to think that one day, they might collaborate in Sin City.
Loved Me Back to Life is out now.
Copyright 2013 ABC News Radio