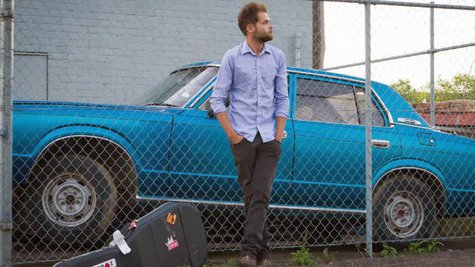 The success of Ed Sheeran proves that U.S. music fans are into acoustic British singer/songwriters -- and Ed's buddy, Passenger , is reaping the benefits.
Passenger is the stage name of Mike Rosenberg, a British singer/songwriter who opened for Ed on his North American tour last year, and this year in the U.K. and Australia. Now, his haunting single " Let Her Go " has gone platinum in the U.S. and it just reached the top 15 on the Billboard Hot 100, thanks to its performance on The Voice last month by Cole Vosbury.
In addition, Passenger's album All the Little Lights has jumped into the top 30. His new iTunes Sessions EP goes on sale Tuesday, and it features "Let Her Go" as well as five other tracks, one of them a cover of the Simon & Garfunkel classic "Homeward Bound."
So, why has "Let Her Go," which was originally released in July of 2012, become a big hit in America, in addition to topping charts worldwide? Mike says he's not really sure.
"It's a really good question and something that I'm slightly baffled about myself," he tells ABC News Radio. "It's been quite an incredible year for me, going from busking on the street to having this massive hit on my hands." However, he does have a few theories about why "Let Her Go" seems to have universal appeal.
"First of all, that melody line, I think, is very catchy, just on a very sort of basic level," Mike explains. "But also the sentiment behind the lyrics, you know. It's a very simple subject matter, which I think everybody seems to relate to."
"I think sometimes that's the power of a good song," he adds. "It's just saying something that everyone feels but saying it very simply and putting it to music, and I think that's kind of what 'Let Her Go' is." But Mike says he's still surprised that a song that was so much about his own life could be embraced by everybody. "I wrote it after a breakup...it's a very personal song to write, but I think once somebody else hears it, they then insert themselves and their own characters into it," he says.
An added bonus is, unlike most situations where a musician goes through a breakup and writes a song about it, the woman who inspired "Let Her Go" is still in the picture, and she and Mike still get along.
"We're really good friends now, and I think she's sort of as surprised as everybody else that knows me that this has got so big!" he tells ABC News Radio.
Passenger's been touring Europe lately, and will wrap up a sold-out world tour in December in Australia. On Saturday, he flew to London to perform at one of that city's holiday traditions: the switching on of the Christmas lights in Regent Street , a main shopping thoroughfare. Leona Lewis also performed at the ceremony on Saturday; Modern Family star Ty Burrell was also on hand to flip the switch.
Copyright 2013 ABC News Radio