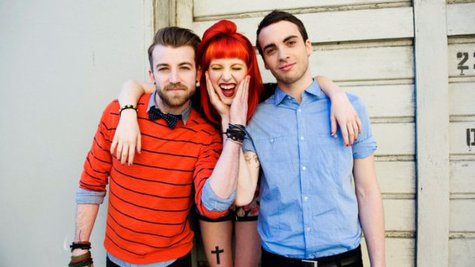 How would you feel if, every time you turned on the radio, you heard a song that was about your own love life? You'd be kind of embarrassed and happy at the same time, right? Well, that's what's happening now with Paramore frontwoman Hayley Williams ' boyfriend, the guy who inspired her to write their latest hit, "Still Into You."
At first, "it made him really shy," Hayley says of her man, whom she's been dating for six years. "[But] he's super into it now, 'cause he hears it everywhere he goes -- which is cool for us. I mean, we've never had a song be this big, so it's been really exciting for all of us!"
The success of "Still Into You" is one of the reasons why Paramore is currently headlining a big U.S. arena tour -- earlier this week, they played New York's Madison Square Garden. The experience was so profound that Hayley tweeted afterwards, "I almost cried four times! Did we really play @TheGarden ? Was last night real?" The fact that the tour is going so well is a relief for Hayley, because she says it's not easy to perform on such a grand scale.
"There's a lot of pressure involved with playing these big arenas," she tells ABC News Radio. "We've never done it before in the States and we've been doing it in the U.K. for a while, but to be able to bring that here and show our fans here, who have been supporting us since, you know -- what? 2005 is when we started touring -- it's a huge responsibility to us. We are not talking it lightly!" She adds, "The pressure's good. We always do well under pressure."
Another thing that makes the band able to rock tens of thousands of people every night is that they know their fans, old and new, are having a fantastic time right along side them.
"Everyone's really just there enjoying music together and that's our favorite part about it, is just watching music connect so many different people, connect us to these people," says Hayley. "It's an honor, honestly."
When Paramore's tour wraps at the end of this month, they'll play some holiday shows, and after the New Year, they'll head to Australia. In March, the band will set sail on their first-ever fan cruise, which they've dubbed "Parahoy!"
Copyright 2013 ABC News Radio