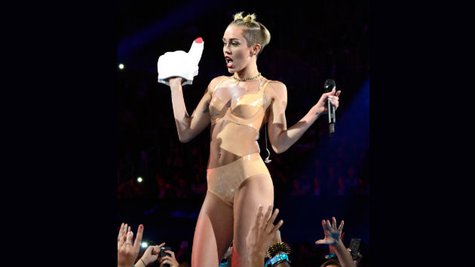 In 2013, how could we have possibly kept ourselves entertained without twerking, gawking at videos filled with topless models or popping some tags? That's why Miley Cyrus, Pharrell Williams and Macklemore & Ryan Lewis have all made Entertainment Weekly's annual Entertainers of the Year list.
Miley, of course, made the list not only for her chart-topping hits, but for her controversial videos and what is arguably the most-talked-about performance ever at the MTV Video Music Awards. "I'm proud of the person I've become," she tells EW. "Not what people think I've turned myself into, but who I've actually become, which is a happier person."
Asked to name her most memorable day of 2013, however, she doesn't choose the VMAs. "I've had so many crazy moments, but something that I was really waiting for was my album release," she tells EW . "It had been two years of waiting and working on it and keeping it top secret." Bangerz debuted at #1 when it finally emerged in October.
As for Pharrell, he was one of the creative forces behind not one but two of 2013's biggest hits: Robin Thicke 's "Blurred Lines" and Daft Punk 's "Get Lucky." "With the songs, all we were trying to do was make people smile," he tells EW about those two smashes. Asked to name which of the two was truly the song of the summer, though, Pharrell admits, "I can't say either way...honestly, I'm still pinching myself. It's still really hard to believe -- all of this is."
Macklemore & Ryan Lewis broke out in 2013 with a self-released album that eventually produced three smashes: "Thrift Shop," "Can't Hold Us" and "Same Love." "I never thought that any of my songs, let alone one about secondhand shopping, would top the charts," Macklemore tells EW. " ['Can't Hold Us'] alleviated us from the one-hit-wonder stamp. 'You thought we had only one hit? Here's our second one and it's real.'" As for "Same Love," the song's pro-gay-marriage lyrics helped it become an anthem. "It speaks for more people than just myself," says the rapper. "I don't have ownership of it anymore."
Others on EW's Entertainers of the Year list include Tom Hanks , Grumpy Cat , Netflix, the cast of Scandal, the team behind Breaking Bad and, as previously reported, EW's cover girl, Sandra Bullock .
Copyright 2013 ABC News Radio