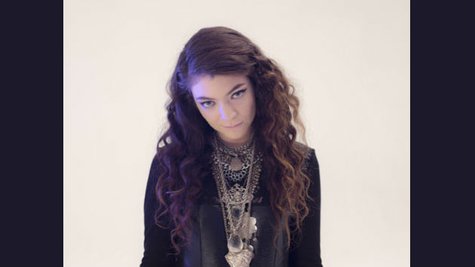 Lorde is sitting pretty right now: her debut single "Royals" has just hit #1 on the Billboard Hot 100, and she'll be performing Friday morning on ABC's Good Morning America. The 16-year-old singer from New Zealand is understandably psyched about her success in the states.
"It feels like a combination of my birthday, Christmas and washing my hair after a month of not doing so," Lorde tells Billboard about topping the chart. Sounds weird, but if you've seen Lorde, you might have noticed that she has lot of hair, so that metaphor does kinda makes sense.
"[I'm] very, very grateful for everyone's love and kind words," she adds.
Next week, Lorde will have something else to celebrate: her debut album, Pure Heroine, came out on Monday, and Billboard predicts that it will debut in the top three of next week's chart. In addition, the disc was released September 30, the final cutoff date for consideration for the Grammy Awards, so there's a possibility that she'll receive some nominations in December.
Copyright 2013 ABC News Radio