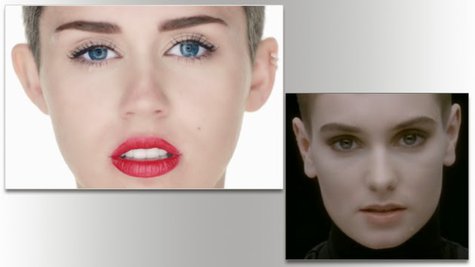 '90s star Sinead O'Connor recently made headlines by writing an open letter to Miley Cyrus , telling the younger singer, "You have enough talent that you don't need to let the music business make a prostitute of you," and, "Whoever is telling you getting naked is the way to [shed the Hannah Montana image] does absolutely NOT respect your talent, or you as a young lady." Now, Miley has responded to Sinead's message via Twitter, implying that the "Nothing Compares 2 U" singer is crazy, and insulting Amanda Bynes in the process.
On Twitter, Miley posted a screengrab of a barrage of tweets from a Twitter account labeled "Sinead O'Connor," which contain strange musings like "I desperately need to get back on meds today" and "Does anyone know a psychiatrist...who could urgently see me today please?" Miley captioned that image, "Before Amanda Bynes, there was...."
But Entertainment Weekly points out there are two problems with Miley's response. First, while it's true that Amanda Bynes tweeted out some mighty strange things, and many labeled her "crazy," we now know that she's suffering from a bona fide mental illness and is undergoing treatment right now. Secondly, Sinead O'Connor's rep tells EW that the singer doesn't tweet, so it's unclear if those tweets were actually hers in the first place; at one point they were believed to be .
The finishing touch to Miley's response? She posted a photo of O'Connor during her highly controversial 1992 appearance on Saturday Night Live -- the show that Miley is hosting this weekend -- tearing a photo of the Pope in half. The clear implication is that O'Connor is unbalanced.
Miley originally had said that the video for "Wrecking Ball" was inspired, in part, by Sinead's clip for "Nothing Compares 2 U."
Copyright 2013 ABC News Radio