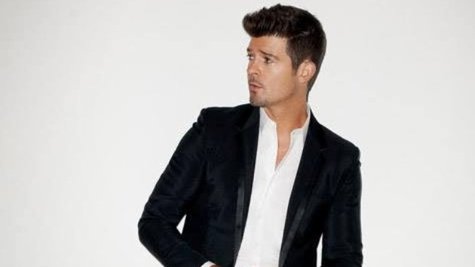 Robin Thicke is a man of many talents. The singer has written, directed and starred in the short film Mercy, which is based on true events.
According to The Hollywood Reporter , the film follows Robin as Tom, a family-focused limo driver. He's married to Cynthia, a woman who is plagued by alcohol and drug addiction, played by the singer's real-life wife, Paula Patton .
Amandla Stenberg stars as the couple's daughter, a talented violinist, while Robert Patrick plays Randall Cross, a man full of regrets who "cannot sit idly by as he is on the verge of losing his home after his wife succumbs to cancer."
Mercy was filmed in Los Angeles earlier this year and was produced by Jump Films' Mick Partridge with Thicke and Jordan Feldstein serving as executive producers.
The flick marks another addition to Robin's growing screen credits. He appeared previously on BET's Real Husbands of Hollywood and he stars opposite Jaime Pressly in the indie film Abby in the Summer .
No word yet on when and where we'll get to see Mercy .
Copyright 2013 ABC News Radio