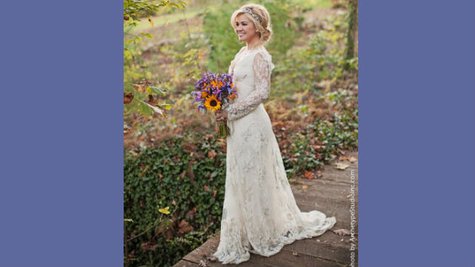 When Kelly Clarkson tied the knot on Sunday with fiance Brandon Blackstock , she may have worn something old, new, borrowed and blue, but she definitely wore something Idol.
In a tweet thanking the designers who created her romantic wedding look, Kelly gave a shout-out to Jim Verraros , who she thanked for her "beautiful headpiece." Jim Verraros was a top 10 finalist on the first season of American Idol , just like Kelly was. He later made headlines when he came out as gay after the show ended. According to People magazine , Jim collaborated with the jeweler Maria Elena to create Kelly's custom-made Swarovski crystal headband, which had a leaf design in Swarovski opals.
In addition, Kelly got wedding congratulations from another American Idol alum: season six winner Jordin Sparks . "You look stunning Kelly! Congratulations I am so happy for you!! <3," she tweeted to Kelly, who replied, "Thanks girl! Best day ever :)." "I can imagine! I was squealing at your dress & loving union! Yayayayay!," Jordin wrote back.
Kelly also sported a Temperly Bridal gown -- the company's "Jessamine" style, in case you want to order it for yourself.
The singer shared another photo of her wedding on Twitter as well: she and Brandon are seen standing in an open field kissing , with some fall leaves strewn around them.
Copyright 2013 ABC News Radio