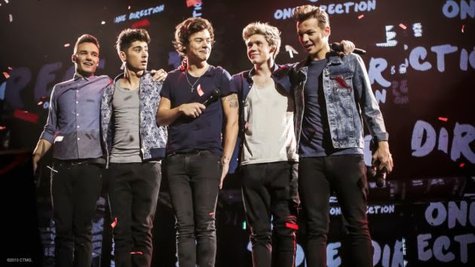 It's a fact that one day, One Direction won't be as hot as they currently are. Hopefully, the guys are saving their pennies for when that day comes, and according to a new survey, they've got quite a few pennies. Like, hundreds of millions of them.
Heat magazine's annual "Rich List," which ranks the wealthiest British celebrities under 30, puts Zayn , Louis , Liam , Niall and Harry on top of the list for 2013, claiming they've earned a combined $95.70 million over the past year. Their ages range from 19 to 21.
Heat first started running the list in 2010, and Harry Potter star Daniel Radcliffe toppedi it list that year, as well as in 2011 and 2012. This year, however, One Direction knocked him down to #2; Radcliffe only took in $90.64 million, poor chap.
Of course, 1D aren't the only young British musicians who are raking in the big bucks. Heat ranks Adele at #6, DJ/songwriter/producer/artist Calvin Harris at #8, "Bleeding Love" singer Leona Lewis at #10, Joss Stone at #14, opera singer Charlotte Church at 15, Florence Welch of Florence & the Machine at #20, Lily Allen -- who duets with Pink on her latest hit, "True Love" -- at #25, Duffy of "Mercy" fame at #26, and Jessie J at #28.
Heat magazine's list is based on the findings of a panel of experts who analyze the stars' earnings based on music sales, product endorsements, TV and film deals.
Copyright 2013 ABC News Radio