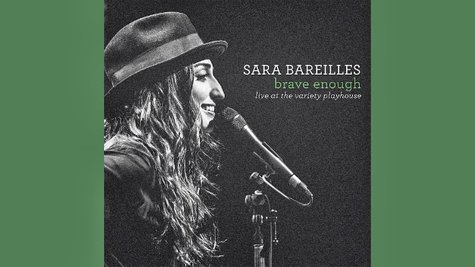 Earlier this year, Sara Bareilles launched her Brave Enough tour, her first-ever solo trek -- meaning just her, with no backup band -- and she documented it on a new DVD called Brave Enough : Live at the Variety Playhouse, which is in stores this week . The name of the tour was fitting, considering that Sara says the idea of even doing the tour left her "terrified" and "crying."
"It's something I was absolutely terrified to do," Sara tells ABC News Radio. "I was completely overwhelmed and crying in my rehearsal rooms, like, 'How am I gonna do this?' And it's the first time I've ever toured without a band, and I felt, like, incapable of making it happen." But then Sara realized that since her new single at the time was called "Brave," she'd better just suck it up.
"I was...supporting the song 'Brave,' and it's like, 'You gotta practice what you preach a little bit,'" Sara explains. "So I was really, really proud of myself for getting through that tour and not only getting through it, but really learning so much from the experience."
And the people around Sara also noticed what a triumph it was for the singer to complete the tour -- specifically, a pal of hers who offered to document it for posterity. "He was like, 'You have to capture this, I'll film it for you for free...you have to have this documented somewhere so you can remember what this was like for you,'" Sara recalls her friend telling her. "I was like, 'Oh my gosh, you're right!'" The DVD was filmed during Sara's concert in Atlanta on May 20th.
But there was another reason why Sara decided that releasing a live DVD would be a good idea. "I knew the shows were gonna be really small, so there were a lot of people that wanted to come that, that wouldn't be able to get into the room," she tells ABC News Radio. "So I feel like it's a way for me to share it with people that weren't there, too."
Brave Enough: Live at the Variety Playhouse is available as a DVD, and as a CD/DVD combo. In addition to featuring Sara's hits like " Love Song ," "King of Anything" and "Brave," it also includes her version of Elton John's "Goodbye Yellow Brick Road."
Copyright 2013 ABC News Radio