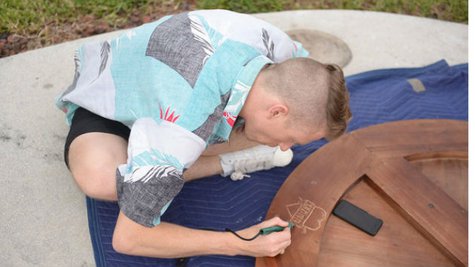 Rapper Ben Haggerty , better known as Macklemore , has just had the best year of his professional life. But now, he's opening up about his personal life in a new E! special that will air November 7.
The special is called Macklemore's Big Surprise , and in it, Ben will discuss his struggles with drug addiction, starting from the age of 14, and how his fiancee Tricia Davis and Tricia's mom Diana ultimately helped him get back on the straight and narrow. To thank her mom, Ben and Tricia team up to stage a surprise home makeover for her, described as "the biggest surprise of Diana's life."
"I think more than anything, I want to be someone that Diana trusts. That Diana knows is not going to leave, that is going to love her daughter unconditionally. That accepts their family like it is my own, because it is," says Ben in the special.
Ben's musical partner Ryan Lewis is also spotlighted during the special, as well as his uncle John Haggerty , whose relationship with his partner Sean helped inspire the duo's smash hit "Same Love."
Speaking about that groundbreaking song about marriage equality, Ben says, "I wanted to hold hip-hop accountable. I wanted to stand up against the prejudice and the hatred and make a song that addressed the homophobia."
You can watch Macklemore's Big Surprise November 7 at 10 p.m. ET/PT on E!
Copyright 2013 ABC News Radio