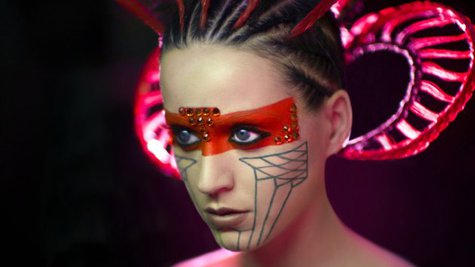 When Katy Perry scored a hit with a song called "E.T.," about falling in love with an alien, she wasn't kidding. The singer says that she actually believes aliens exist, and has a ticket to go to outer space.
Katy makes these revelations in Us Weekly magazine, in the publication's feature "25 Things You Don't Know About Me." Among her more down-to-earth revelations: she carries her teddy bear around the world with her, she brushes her teeth anywhere from four to six times a day, and she takes 26 vitamins and supplements daily. But that doesn't mean she doesn't eat unhealthy foods once in a while -- she says chicken nuggets are her "comfort food -- but only the boot-shaped ones."
The singer also tells the magazine that among the items on her bucket list are "climbing Macchu Picchu, learning Spanish and figuring out how to crochet." She's never had any plastic surgery, she insists, and is proud of the fact that she and music legend Stevie Nicks are "buds."
And here's something else you may not know about Katy, which isn't in the article: HitFix.com reports that during a fan Q&A last week, the singer revealed that she'd love to play Lydia in a sequel to Tim Burton's Beetlejuice, which the director is reportedly considering. In the original film, Lydia was played by Winona Ryder.
Copyright 2013 ABC News Radio