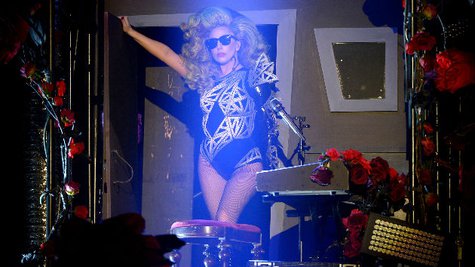 Lady Gaga reportedly lived out the lyrics of her song "Do What U Want" in real life Friday night after her concert in New York City, by putting on a sexy public display for her boyfriend.
According to The New York Post , Gaga and her man, Chicago Fire star Taylor Kinney , arrived separately at the after-party at a New York City club. When Kinney showed up, the paper reports, he went to the VIP area, where Gaga "assumed a stripper persona and put on a show for him."
"She jumped on a banquette, pulled Taylor's face into her crotch, was stroking his hair," said a spy, adding that Gaga was singing "do what you want with my body" while engaged in these antics.
According to a spy, the singer gave Kinney a "serious lap dance," after which they began making out. The guards ultimately pulled a curtain around them and about 10 other people.
Gaga closes out her run at New York's Roseland Ballroom Monday night. It's the famous venue's final show. Her show there on Sunday night attracted her pal, legendary crooner Tony Bennett , as well as Rock and Roll Hall of Famer Bonnie Raitt.
Copyright 2014 ABC News Radio