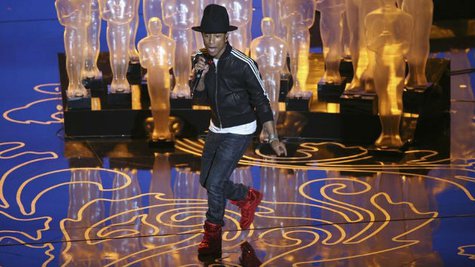 Despite composing the score for the first Despicable Me film with Brazilian musician Heitor Pereira , Pharrell said he was extremely nervous to create new music for the Despicable Me 2 soundtrack, including his Oscar-nominated smash hit song, "Happy." The singer, musician and producer said he had to turn to a higher power for help.
"I just got to that point in the second film and was like, 'Man! This is a pivotal moment in the film. What am I gonna do? Am I gonna mess this up? Are they going to have me back on the third?' And you get to the place where you run out of ideas," he said on Monday's Good Morning America . "It's like when you don't know anything, and you ask yourself a question, and you listen. You open yourself up. And the master, God, the universe, it speaks to you."
Pharrell said he went to great lengths to make sure "Happy" was perfect , creating multiple versions of the Oscar-nominated song before releasing it.

"It was actually nine versions before I got to the tenth," he revealed. "...I just said to myself, 'How do you make a song about a guy who's so happy and relentless in doing so?' And that's when I realized the answer had been sleeping in the question all along."
"Happy" is also featured on his latest album, G I R L , which is his second solo album. "The first album was a bit about me, me, me and this other guy, me. And this album is not about me," the 41-year-old explained. "This album is devoted to such an incredible demographic that's been taking care of me for over 20 years, and that's the women."
Copyright 2014 ABC News Radio