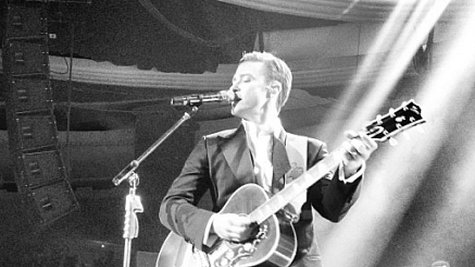 Justin Timberlake received lots of love this morning when the Billboard Music Awards nominees were announced. Jason Derulo helped reveal the nominees in the top categories on ABC's Good Morning America .
So far, Timberlake leads in nods with three nominations, including Top Male Artist, Top R&B Artist and Top Artist. Of course, that may change when Billboard announces the remainder of the nominees in other categories later Wednesday.
The nominations highlight the year's most successful artists in different music genres, based on album and single sales, radio airplay, touring, streaming, and social media interaction.
The Billboard Music Awards will take place in Las Vegas Sunday, May 18, and will air live on ABC.
Here are the nominees for the categories announced so far:
Top Female Artist
Beyonce
Miley Cyrus
Lorde
Katy Perry
Rihanna
Top Male Artist
Luke Bryan
Drake
Eminem
Bruno Mars
Justin Timberlake
Top Country Artist
Luke Bryan
Florida Georgia Line
Darius Rucker
Blake Shelton
Taylor Swift
Top R&B Artist
Beyonce
Pharrell Williams
Rihanna
Robin Thicke
Justin Timberlake
Top Artist
Miley Cyrus
Imagine Dragons
Bruno Mars
Katy Perry
Justin Timberlake
Copyright 2014 ABC News Radio