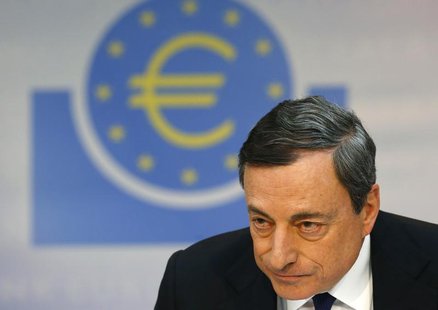 AMSTERDAM (Reuters) - European Central Bank President Mario Draghi said on Thursday the central bank should reflect on the frequency of its policy meetings to keep expectations for further stimulus at bay.
The ECB Governing Council meets once a month to set interest rates for the 18-member euro zone. After the monthly meeting, Draghi holds an hour-long news conference, where he explains the Governing Council's policy decision.
"With the need to avoid triggering short-term market noise, we should reflect on the frequency of our monetary policy meetings as well," Draghi said at a conference in Amsterdam.
"It's pretty clear that our frequency of meetings leads the markets and the public to expect action," he said.
"There's contrast between the massive flow of information, the expectations that this feeds in and the fact that we have one monthly occasion during which we have to respond to these expectations - explain why we act or why we don't act - which in turn feeds into other expectations," Draghi said.
"I just suggested one way of thinking could be this. Not all major central banks have monthly meetings."
(Reporting by Thomas Escritt, writing by Eva Taylor)