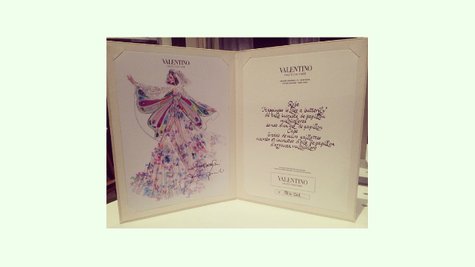 Katy Perry 's mammoth Prismatic World Tour gets underway May 7 in Northern Ireland, and the singer has been teasing fans on social media with glimpses of some of the show's production elements. The latest tease comes in the form of a sketch, posted to Katy's Instagram account, showing one of her new stage costumes, designed by Valentino.
The sketch, accompanied by the words "happiness is a butterfly," reveals a long, apparently sheer gown, and an accompanying colorful butterfly cape.
"Let's start the 10 day countdown with a little couture," Katy writes in the caption.
No word on what song the dress is will be worn for, but in "Roar," Katy paraphrases a famous rhyme by boxing great Muhammad Ali , singing, "Now I'm floating like a butterfly/Stinging like a bee."
The Prismatic World Tour hits the U.S. June 22 with a show in Raleigh, NC and wraps up its U.S. leg October 11 in Houston before heading to Mexico and Australia.
Copyright 2014 ABC News Radio