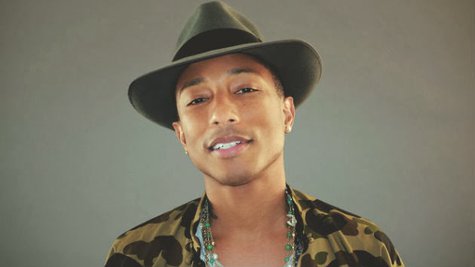 Pharrell Williams' Vivienne Westwood Buffalo hat has been his trademark since he wore it on the Grammys, and now he's thinking about opening his own hat store in Florida.
He told the French website Soonnight.com , "A concept store like [Paris'] Colette in Miami could be cool. I don't know what the best location would be. Perhaps Lincoln Road or even Bayside." He added, ""Inside, you'd find lots of products imported from Europe as well as my own collections. I would have a whole floor dedicated to hats and caps, I can't get enough of them."
Williams just launched his "i am OTHER" collaboration with Uniqlo in the United Kingdom on April 24 featuring caps as well as men's and women's T-shirts with the messages "Think Other" or "THE SAME IS LAME." The Grammy winner explained why he partnered with the Japanese company.
"I like Uniqlo's simplicity. I created a capsule collection of T-shirts and caps to help celebrate their twelfth birthday. The design is very clean, that's what I love."
When asked about his next goal in the fashion world, Williams' replied, ""Maybe a top hat... I love clothes and I only do what I'm passionate about. I love making a scene when I turn up on the red carpet in shorts."
Copyright 2014 ABC News Radio