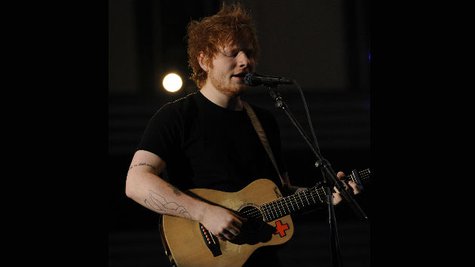 Looks like Ed Sheeran has learned a valuable lesson from his buddy Taylor Swift : Kiss, but don't tell. Just as Taylor never reveals who her breakup songs are about, so is Ed refusing to dish on the identity of the cheating woman who inspired one of his new songs, "Don't."
Ed has said that he wrote the song after a female singer he was dating allegedly cheated on him with a friend of his, while all three of them were staying at the same hotel. " I never saw him as a threat, 'til you ­disappeared with him to have sex," go the lyrics. Grilled about the subject of the tune on Australia's Kyle & Jackie O Show earlier this week, though, Ed refused to reveal her name, explaining, "I just needed to write that song, I was very frustrated and angry at the time and I just needed to vent. And now I've vented, I feel better about it, so I'm just kinda leaving it there."
When Kyle complained that Ed's reticence had caused him to miss out on a huge scoop, Ed retorted, " You can find scoops in other ways that wouldn't tarnish people's reputation[s]."
Most gossip about the song "Don't" claims that the woman in question is Ellie Goulding , but there is no confirmation of that whatsoever.
By the way, during that same interview, Ed also confirmed that he's currently seeing someone, but wouldn't reveal her name, either.
Copyright 2014 ABC News Radio