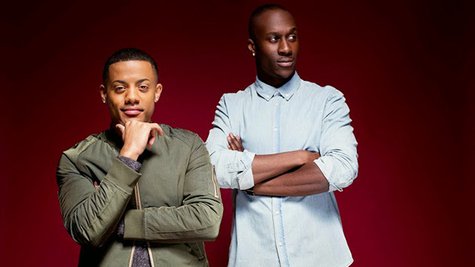 "Am I Wrong" by Nico & Vinz is one of the songs of the summer, but it's not just a catchy tune: it's proving to be an inspiration to people everywhere. On top of that, it's also letting the Norwegian duo get away with breaking one of that country's unwritten rules: don't you dare think that you're anything special, that you're good at anything, or that you're better or smarter than anyone else.
While individuality and success are celebrated in America, Norwegian culture tends to frown upon those two things. This isn't just paranoia: Norway's tendency to discourage overachievers and encourage conformity is an actual sociological phenomenon: it's called the Law of Jante .
As Vinz explains, "There's this unwritten law in Norway that sort of says, 'Don't come around here acting like you are all that."' But I think initially, from the beginning, we've always been sort of like, 'Be who we are, but at the same time, be brave enough to say, 'Y'know what? I am going to do that -- and watch me!'"
"We've been very rebellious against that unwritten law," Nico adds. "Not only to inspire ourselves to achieve what we want to go out and believe, but it's also to inspire people all over the world. Y'know, if you see us -- two Afro-Norwegians from this small country -- hopefully that can inspire other people to see that anything is possible if you put your mind to it."
In fact, Nico & Vinz says they're already receiving proof that "Am I Wrong" is affecting people in just that way.
Vince tells ABC News Radio, "Recently we got an e-mail, from a teacher who was just like, 'I'm about to really have a curriculum change in here because of you. I want the kids here to understand that they have to be themselves, and not strive to be everyone else, but be the best they can be,' and she talked about how that song affected her."
Adds Vinz, "When you get those kind of things, you're like, 'Okay we're actually doing what we wanted to do.' We just affect people's lives in a positive way."
Nico & Vinz are currently on the road opening up for Bruno Mars on his Moonshine Jungle tour.
Follow @ABCNewsRadio
Copyright 2014 ABC News Radio