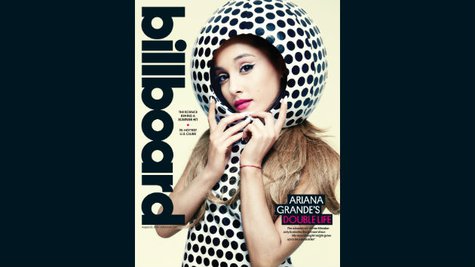 Ariana Grande seems like the sweetest thing ever, but she says when she was a little kid, she was "dark and deranged" -- to the point where her mom was worried that she'd become a criminal.
Speaking to Billboard for its cover story, Ariana says she was "a very weird little girl," and describes herself as "dark and deranged," adding, "I always wanted to have skeleton face paint on or be wearing a Freddy Krueger mask, and I would carry a hockey stick around. I was like a mini- Helena Bonham Carter ." She adds, "For my fifth birthday party we had a Jaws theme and all my friends left crying. I mean, I still am that way. But when I was little, it was more concerning. There was a stage, when I was 3 or 4, where my mom thought I might grow up to be a serial killer."
Luckily, Ariana did not become a female Dexter. She started acting in community theater, moved on to Broadway, and then landed her role in Nickelodeon's Victorious, which led to her starring role on the now-canceled spinoff, Sam & Cat . She got a record deal at age 17, and her debut album, Yours Truly , topped the chart last year. Her next album, My Everything , is due August 25 and has already produced the hits "Problem" and "Break Free."
Ariana admits to Billboard that she was "intimidated" by "Problem," saying she found the whispered chorus "shocking" at first. As for "Break Free," she says she "hated it at first" because of her vocals, which producer Max Martin had encouraged her to sing ahead of the beat. Now, she loves it. "I was so pleased when I tried something that I thought -- no, that I knew I would hate," she says.
While her current hits are very "of the moment," the 21-year-old singer tells Billboard that despite her youth, some of her biggest inspirations come from the past. "I have an obsession with all things vintage and classic and old-school, everything from Marlene Dietrich to Frankie Valli and The Four Seasons to Connie Francis ," she says. Another musical touchstone? Madonna . "She is strength, she is freedom, she is wisdom beyond anybody's comprehension," gushes Ariana. Like Madonna, she was raised Catholic, but now practices Kabbalah.
"As a fellow Kabbalist, I know how hard it is to exercise those tools in your everyday life," she says. "Especially in a world where everything is so egocentric and all you do is talk about yourself and promote yourself."
You can read the full interview in the current issue of Billboard .
Follow --ABCNewsRadio
Copyright 2014 ABC News Radio