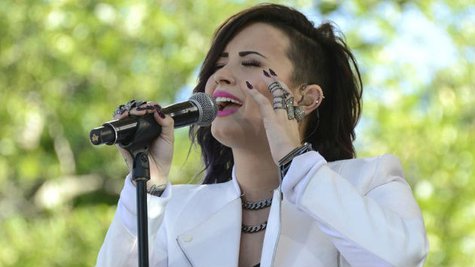 Demi Lovato is no stranger to the stage, but she is set to embark on her first world tour. The multi-platinum selling recording artist said she's looking forward to the new challenge.
"I'm really excited to go back out on the road. Performing makes me so happy and it's really exhilarating," she said on Friday's Good Morning America . "So when I'm out on stage...I just want to be out there right now. So, I'm excited to go back out."
So what can Lovatics expect? "You can expect music from all of my albums," Demi told ABC's Lara Spencer . "And I plan on doing some really cool surprise things and I want to change the show up a bit, so it's going to be really exciting."
One aspect of the show that will stay the same is when Demi sits down on a stool and talks to fans during the show. Demi said that's the most important part of her set.
"Whenever I go to a concert and I don't hear the artist talk to the audience, or if everything's too contrived and choreographed, I feel like I'm not connecting with the artist. So whenever I go, I like to take a second to either talk about something that I'm passionate about or also just say, 'Like, hey! What's up! Like, I'm hear to hang out with you guys,'" she explained.
Demi: The World Tour kicks off September 6 in Baltimore, Maryland.
Follow --ABCNewsRadio
Copyright 2014 ABC News Radio