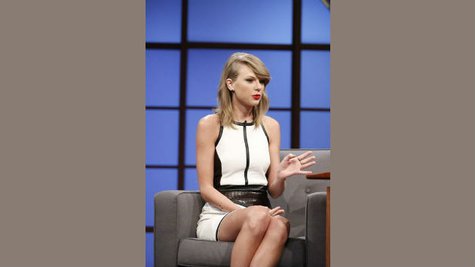 The Giver , the new movie that features Taylor Swift in a small but important role, is about a future society where people don't experience emotion, and nobody has any memory of what life was like in the past -- except for one special person, called the Receiver of Memory. Taylor says that since her songs are all about emotion and memory, it really made sense for her to appear in a movie that highlights how important these two things are.
"Retrospect is a very important part of my songwriting process," she says, "So to be a part of a movie that so perfectly celebrates retrospect, it's just a perfect match."
What does she mean by "retrospect?" Well, Taylor points out that all her songs are about memories of the past, rather than looking forward.
"What I do with songwriting, it's all about celebrating memories," she says. "Almost every song of mine is in past tense, looking back. I don't have any future songs, like, what's going to happen tomorrow. I very rarely write songs about what's happening right now. Most of it is about what used to happen, or what happened one time."
As for emotion, Taylor says that's why people connect to her songs.
"People wouldn't listen to my songs if they weren't heartbroken or deeply affected and hurt, and jilted and sad and bitter, and all those wonderful things that I write songs about," she says wryly.
"Emotion is such an important part of everything in my world," she adds. "So the idea that people would be kind of conditioned not to know what that even is, I can't imagine that kind of world. I really can't."
Follow @ABCNewsRadio
Copyright 2014 ABC News Radio