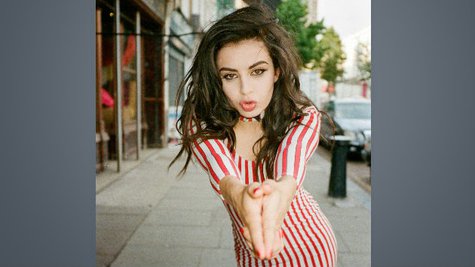 With her "Fancy" duet partner Iggy Azalea , Charli XCX is nominated in a number of categories at the MTV Video Music Awards, which take place next weekend in Los Angeles. But the British singer/songwriter is also nominated on her own in the MTV Artist to Watch category, and if she doesn't win, she says there's one fellow nominee she won't mind losing to.
Charli's up against 5 Seconds of Summer, Fifth Harmony, Schoolboy Q and Sam Smith in the category. When asked by Entertainment Weekly who she wants to win if she doesn't, she says, "Sam Smith, definitely. We're actually from the same town. He went to school literally up the road from my school."
"He's such a talented singer and musician," she adds. "And one of the nicest and realest people in the industry."
As for the VMAs themselves, Charli tells the magazine, "To be honest, I didn't have MTV growing up. I feel like that was something I missed, so I had to rewatch the epic python moment with Britney Spears and all that." However, she adds, "I know it's a big deal, and I think 'Fancy' deserves to win some awards."
The MTV VMAs air Sunday night, August 24 at 9 p.m. ET.
Follow @ABCNewsRadio
Copyright 2014 ABC News Radio