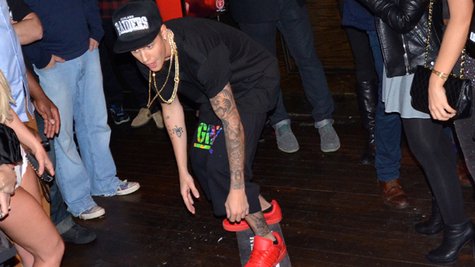 What's a teen pop star to do after a DUI arrest and a border patrol detainment at a New Jersey airport?

Party, of course.

Justin Bieber attended the Maxim Super Bowl Party, sponsored by Talent Resources, early Monday morning in New York City. Justin, 19, showed up around 2 a.m. through a private garage and he left around 3:45 a.m.

Justin was flanked by his security team as he entered the event. Partygoers described his security team as aggressive when the singer made his way through the sea of people. One girl was elbowed and others were pushed out of the way, sources told ABC News. The security team also tried to prevent anyone from taking a photo of the troubled pop star by flashing lights directly into people's eyes, sources said.

"He was having a great time, he met some girls, he was hanging out with his friends," another partygoer told ABC News. "He was really, really cool. He was super chill, he hung in the back. He didn't cause a scene or any problems, and he stayed after his friends left. He was having a really chill night. I didn't see him have any alcohol."

Justin also made an appearance at the 11th Annual Leather & Laces party at the Liberty Theatre, hosted by Victoria's Secret models Alessandra Ambrosio and Adriana Lima . Justin reportedly spent some of this time there in a private cabana, but emerged long enough to hang with the crowd and demonstrate his skateboarding skills.

It's been a roller-coaster week for Bieber, who was detained at Teterboro Airport Friday on suspicion that marijuana was on board his private plane, sources confirmed to ABC News. Bieber was eventually let go after a lengthy interview by Customs and Border Protection agents.

Just days ago, Justin turned himself in to Toronto police in connection with an alleged assault on a limo driver that happened last year. Bieber was also arrested for alleged DUI and drag racing in Miami, after leaving a nightclub around 4 a.m. Jan. 23.

Before that, Bieber's Los Angeles home was searched in early January, as police looked for evidence of whether he was involved in a neighborhood egging that could result in a felony.
Copyright 2014 ABC News Radio